Are you concerned about commercially made snacks? If you are, you are not alone. A lot of people who are trying to stay healthy worry about the amount of sugar and unhealthy fats that are present in most of the snacks that you find in the supermarket. Most people resort to these snacks simply lack the time to prepare healthy snacks at home. Well, here are 11 health snacks that will take only minutes to prepare.
Homemade microwave popcorn
You would be surprised at how many people are ignorant about the fact that they can make their own popcorn – they usually reach for the prepackaged stuff which usually contains too much salt and you never know what kind of fat was used. You can get raw popcorn at where you buy pulses and grains.
Ingredients
– Raw popcorn
– Salt or butter or any other flavor you would like
– Brown paper bag and a stapler
Method
– Put ¼ cup of popcorn into the paper bag. Fold across the top and staple along the fold. Make sure to stick to this amount of popcorn – more might strain the bag and tear while in the microwave.
– Pop in the microwave for about 4 or 5 minutes. The pops will come fast in the beginning and then slow down. Wait until the pops are about 5 seconds apart – most of the corn has popped.
– Take out the bag and add whatever flavors you wish. Add while the popcorn is hot – cold popcorn doesn't take in flavors very well.
Healthy pizza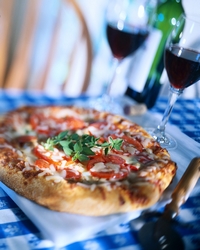 We all love pizza but it comes with too much to worry about – the calories go straight to the tummy and the hips, and eating too much of it can lead to obesity and other health problems. But because giving up pizza entirely is not really an option, here is a way to make a quick and very healthy pizza.
Ingredients
– A whole meal English muffin
– Low fat mozzarella shredded cheese
– A healthy pizza sauce
Method
– Split the muffin in half horizontally.
– Put some sauce on each of the two halves.
– Spread the 1/8 of a cup of the shredded cheese.
– Pop into the toaster oven for about 5 minutes in medium heat. Do NOT use the microwave – you will not like what your pizza will turn into.
Avocado on toast
Almost everything that you put on toast will set you back something substantial in calories. Well, avocado is one of the healthiest ways to eat your toast. It is low in calories, it is a great source of fiber and it contains only healthy fat. For this recipe, just toast some bread and then slice some avocado over it. You can add some salt and squirt a little lemon juice on for more flavor.
Nuts in yoghurt
This is an excellent snack as well as a great solution for a quick breakfast. Again, there is very little to be done here. Buy some of your favorite healthy yoghurt flavors and keep them handy in the fridge. Buy some of your favorite nuts – you can select several different ones, but they should be salt free. Any time you feel hungry, scoop some nuts into the yoghurt and you have a healthy, cheap and easy to prepare snack.
Apple chips
Not many people think about different options for apples. There are great things that you can do with them if you get creative. One the best is to slice the apples in to thin slices and then bake them slowly dry. All you need is a food processor. You don't have to peel the apples, just get very thin slices out of them. They take about 2 hours to bake perfectly so you can leave them on as you make dinner and they will be excellent for tomorrow's snacks.
Overnight pancakes
The secret to pancakes is finding a way to make your batter so that it can last 3 or 4 days. That way, all you have to do in the morning is fire up the griddle and make the pancakes. Here is an excellent recipe:
Ingredients
– ¾ cups white flour
– ¾ cups rolled oats
– 1 teaspoon baking soda
– ½ teaspoon salt
– 1 tablespoon of sugar
– ½ cup yoghurt
– ¾ cup milk
– 2 eggs
Method
Mix it all up in the food processor and then put in a bowl, cover and set it in the fridge. This recipe serves 4 but you can make more to last longer.
Sweet potato fries
These are a great replacement to regular fries and this recipe uses brown sugar to make them particularly delightful.
Ingredients
– 2 medium sweet potatoes
– 1 tablespoon brown sugar
– 2 tablespoons olive oil
– Salt and pepper
Method
– Preheat your oven to 4500F.
– Peel the sweet potatoes and slice them into chips.
– Place them in foil together with the sugar and the olive oil and toss a little.
– Arrange them so that there is lots of room between the slices.
– Bake for 15 minutes, turn with tongs and bake again for 15 minutes.
Healthy popsicles
Popsicles are among the most common things to snack on in hot weather. The problem is that store bought ones come with more calories than is healthy. There is no reason why you cannot make your own popsicles. All you need is a fruit and the fresh juice of the fruit. Blend the fruit a little, mix in the juice and then pour into popsicle molds. Wait about 30 minutes until they become slushy and then insert the sticks. They will set just right.
Cheese corn
We all love corn and here is a way to make it even better without piling on calories. Simply boil the corn and then coat it with parmesan cheese, stick in the microwave for a minute for the cheese to melt and you have a great snack that is low in calories. Corn is also great for fiber and it keeps you feeling full for a while.
The Jack LaLanne healthy dessert
This one gets all your fruit together and is incredibly easy to make. You need to have a banana, a handful of raisins, ¼ cup of grated coconut and a tablespoon of honey. You can mash up the banana or you can slice it into a bowl. Add the raisins and sprinkle the grated coconut. Spread the honey on top. Less than 5 minutes and you have a vitamin packed snack.
Kale chips
If you have kale in your garden or can get it in your local store, you can make kale chips. Kale gives you 450% of the vitamin A that is required daily. Here is the recipe:
Ingredients
– A bunch of kale
– 2 tablespoons olive oil
– Salt to taste
Method
– Wash the kale and the strip off the thick stems.
– Arrange them flat on foil paper.
– Drizzle with olive oil and salt and then bake until the edges turn brown – usually takes between 8 and 10 minutes and your kale chips are ready to serve.
There you have it; 11 healthy snacks that you can make on the quick and that are also pretty cheap. If you really cannot spare the short time that it takes to prepare these delicious recipes, eat fruit and nuts for snacks rather than going to the vending machine or buying snacks in the supermarket.