One of the most versatile of all foods, Tuna is often presented in a bland and uninspiring dish. Delicious when prepared correctly, it can in fact make some of the most impressive meals around. We took a look at the best canned tuna recipes, each of which is healthy and tasty, let alone easy to make. For those on a budget, these may be the most helpful recipes around!
Tuna and Pasta Salad
This is a classic dish, but sometimes it is not given the credit it deserves. You will need the following:
– One can of tuna
– A teaspoon or two of parsley flakes or leaves
– A grated carrot and one large chopped tomato
– Pasta of your choice – we like the smaller varieties for this recipe
– Virgin olive oil, salt and pepper to taste
Cooking is simple: boil the pasta as per the instructions, stirring in the carrot and tomato, parsley, and salt and pepper. It will take no longer than ten minutes, after which you should drain the pasta and then add the olive oil, stirring to coat. Choose whether to have the salad cold or hot – it's up to you – add the tuna, and serve.
Tuna Stuffed Potatoes
This is a superbly inventive dish that is both delicious and healthy, although it does require an hour and a half for preparation. You need:
– Four baking potatoes
– A couple of cups of grated cheddar cheese
– A chopped onion and chopped green pepper
– Mayonnaise
– One can of tuna
There really are few recipes as easy as this: preheat the oven to 375f and while doing so wrap the potatoes in foil. Bake for an hour, and then spilt the potatoes and take out the filling while taking care not to damage the skin. Mix the ingredients in with the potato, replace in the skins and sprinkle on the cheese, then bake for 20 further minutes for a truly delicious meal.
Classic Tuna Melt
This really is an all-time classic recipe, and one that delivers a very tasty meal at little cost. Here's what you need:
– 2 Cans Tuna
– Celery, onion and tomatoes to your liking, all chopped finely
– Mayonnaise and parsley, salt and pepper to taste
– Cheese as per your taste
– Bread slices
Mix all the ingredients together thoroughly in a large bowl, adding salt and pepper to taste, while toasting the bread lightly under a grill. Spread the mixture on the un-toasted side of the bread and return to the grill, adding a slice of cheese on top if you wish. Grill for three minutes and serve.
Tuna Burgers
This quick and easy recipe makes great use of canned tuna and is a perfect choice for a light lunch. Here's what you need to hand:
– Two cans of tuna
– Two beaten eggs
– One fine grated carrot and one chopped onion
– Parsley, salt and pepper to taste
– A dash of olive oil
– Soft burger buns
Mix all the ingredients together in a large bowl, and when ready, shape them into burgers. Some choose to add breadcrumbs for consistency. Heat the olive oil on a medium heat in a large skillet, and add the burgers. Cook on both sides for five minutes each, being careful when turning. Serve on buns with lettuce and tomato.
Salad Nicoise
Perfect for anyone looking for a healthy and tasty lunch or a dinner party side-salad, Salad Nicoise is a simple dish to make and will be enjoyed by all.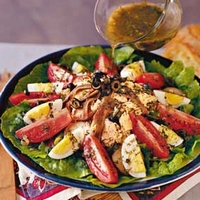 – One can of tuna
– Shredded lettuce
– One cup steamed string beans
– Two potatoes – red are preferred – cooked and chopped
– One tomato, chopped, and one hard-boiled egg, quartered
– One minced garlic clove
– A dash of olive oil and balsamic vinegar
Mix the oils and the garlic in a bowl, place the lettuce as a bed and coat with the dressing, arrange the rest of the ingredients in the bowl and add the remainder of the dressing, and serve as required.
Thai Tuna and Tomato Pizza
A pizza with a difference, this is a dish that combines the spiciness of Thai cooking with the delights o Italy to provide a truly delicious meal. You will need the following:
– Ready-made Pizza bases
– One can of Thai chilli flavored Tuna (or standard tuna plus some Thai chilli powder)
– Two tomatoes with seeds removed, sliced
– Chopped basil
– Some strong, spicy cheese
– Olive oil
This is simplicity exemplified: preheat the oven and coat the Pizza bases in olive oil; spread the tuna, tomatoes and cheese over the crust, cook for fifteen minutes and serve.
Tuna Light Lunch
The perfect diet lunch, this is so simple to make it will most likely become a firm favorite. All you need is ten minutes and the following ingredients:
– One can of tuna
– Four ounces of black beans
– Mayonnaise to taste
– Garlic powder
– Rice cakes
Simply mix the ingredients together and spread on the rice cakes. Substitute bread for rice cakes if preferred, and also consider other spices and herbs to make a superbly delicious sandwich.
Tuna and Sweetcorn Sandwich
An absolute classic, this one takes just a few minutes to make and involves the simplest of ingredients; it is also a very healthy option and perfect for a diet lunch. You require:
– One tin of tuna
– One tin of sweetcorn
– Half a cup of mayonnaise
– Crispbread or buns
– Salt and pepper to taste
Drain the tuna and sweetcorn and mix together in a bowl; stir in the mayonnaise, spread on the crispbread or buns and season to taste. For an alternative, substitute tomato for sweetcorn, and maybe add a touch of garlic. What could be simpler?
The above eight recipes are just a few of the many different ways that a can of tuna can be made into a delicious meal. Use these as your template and experiment with other ingredients, and you will have a never ending source of tasty, healthy and very cheap meals.