It is hard to know where to start with salmon; not only are there so many different ways that you can cook it, it is chock-full of health benefits. It provides lots of omega 3 fatty acids which are excellent for heart and brain health, it helps the body cartilage to keep its form and it is also a great alternative for red meat – it provides protein without all the negative effects that come with beef.
Chefs across the world have figured out different excellent ways to prepare salmon. Here are 4 top recipes that you can prepare any time. It is important to ask before whether it is farmed salmon or wild salmon. Farmed salmon came about when it the wild kind was over-fished so much that market demand could not be met. Farmed salmon, compared to wild, has a different taste. In fact, people used to eating wild salmon will refuse to touch the farmed stuff. If all you have ever had is the farmed kind, it may not matter much to you.
You should also be careful about mercury levels – some waters that contain salmon have a very high degree of mercury in them, and this transfers to salmon eaters and can cause several different types of cancer. With that bit of background, let's get on with the cooking.
Salmon and ravioli
Although not conservative when it comes to calories, this is one of the best ways you can enjoy salmon and it takes just a few minutes to prepare.
Ingredients
– 4 cheese ravioli of about 9 pounds each
– 6 ounces of salmon fillet
– 1 lemon
– 2 tablespoons of olive oil
– 6 ounces of baby spinach
– 3 cloves thinly sliced garlic
– 2 tablespoons of butter
– Some shredded parmesan cheese
– Salt and black pepper to season
Method
1. Cook ravioli using the usual method. Most of it comes packaged with instructions. If you are not entirely sure, look online for how to cook ravioli.
2. Cut the lemon in half. From one half, squeeze the juice. The other will be used as a garnish so cut it into little wedges.
3. Rinse and pat dry the salmon and then set it on a board and sprinkle with salt and pepper.
4. Heat the olive oil in a skillet on medium heat and then put the salmon in. Cook for about 8 minutes; it will start to flake. The best way to cook it in one piece is to make sure that you turn it only once – cook 4 minutes one side, turn, and cook for another 4.
5. Remove the salmon and then put in the baby spinach on for one minute and remove.
6. Put garlic, lemon juice and butter on the skillet and cook while stirring for about 2 or 3 minutes.
7. Divide the salmon into 4, serve with the ravioli and then sprinkle the sauce that you have just made. Your salmon and ravioli is ready to eat.
Smoked salmon and apple salad
This is an excellent way to eat light and it also takes a short time to prepare. If you are looking to make your salads a bit more interesting, try this one out.
Ingredients
– 4 ounces of smoked salmon. If you can't get smoked salmon, you can buy fresh and then cook it and flake it
– 3 carrots cut into carrot sticks about ½ an inch wide
– 3 celery stalks cut the same way
– 2 fennel bulbs thinly sliced
– 1 medium green apple thinly sliced
– ¼ cup of olive oil
– 1 lemon
– 1 tablespoon sugar
– ½ teaspoon salt
– 1 tablespoon of capers
Method
1. Put the salmon, the carrot, the fennel bulbs and celery and the apple into a bowl.
2. Combine all the other ingredients in a jar, close the jar and shake hard until all the ingredients combine.
3. Drizzle the salad dressing on the salad and then let it stand for 10 minutes. Toss once, after 5 minutes.
4. Throw in the capers. You can provide extra lemon if needed, but the salad is ready for eating as it is.
Salmon burgers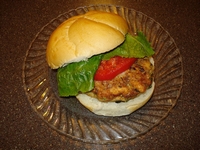 How about a healthy salmon burger? You will have avoided the regular red meat burger and you will have a delicious substitute.
Ingredients
– 1 pound fresh salmon, filleted and cut into 1 inch wide pieces
– 1 cup breadcrumbs – try panko, they work better
– 2 green onions, sliced burger-style
– 2 tablespoons grated ginger
– 1 clove crushed garlic
– 2 eggs, lightly beaten
– 2 tablespoons soy sauce
– 1 tablespoon lemon juice
– 2 tablespoons vegetable oil
– Some lime mayonnaise
Method
1. Rinse and completely dry the salmon and then place in the food processor. Run it until the salmon is completely ground.
2. In a bowl, combine the panko, green onions, ginger, garlic, eggs, soy sauce and lemon juice, then put in the salmon and mix thoroughly.
3. Lay out foil and then divide the contents of the bowl into patties 1 inch thick. Cover with sarong wrap and set in the fridge for at least 30 minutes. You can leave them there for up to 8 hours.
4. Heat the vegetable oil in a skillet and then cook your patties. Be careful not to break them – turn once after 4 minutes and then again.
5. Serve on buns with lime mayonnaise and lettuce.
If you are not sure how to make lime mayonnaise, there are plenty of recipes online. You may not know what panko is – it is breadcrumbs made the Japanese way.
Skillet seared salmon
This is an excellent salmon recipe – low in calories and easy to prepare.
Ingredients
– 6 ounces of sliced salmon, 1 inch thick.
– 1 tablespoon olive oil
– 4 tomatoes, seeded and chopped
– 1 jalapeno, seeded and sliced
– 1 tablespoon butter
– ¼ cup fresh cilantro
Method
1. Wash and pat dry the salmon and then season with salt and pepper.
2. Heat olive oil in a non-stick skillet large enough for the pieces to have enough room to cook.
3. Cook the salmon for 4 minutes each side and halfway during the process, increase the heat to burn the salmon a little bit. Lower the heat and then cook until the salmon flakes easily.
4. Put it on a platter and then put the tomatoes, the jalapenos and the butter on the hot skillet. Cook for one minute. Sprinkle this sauce over the salmon and then sprinkle cilantro. Your skillet seared salmon is ready to eat.
4 excellent recipes you can use to enjoy salmon. There are plenty more, but each time you cook salmon, you should take care not to overcook – it loses its appeal and doesn't taste as good as when cooked just right.