Is Organifi Green Juice The Best Green Drink?
At any given time, we are all looking for a convenient and comprehensive solution for keeping our health in check, especially when it comes to diet and necessary nutrients. Just take a trip to a local health food or supplement store, and you'll see all manner of "healthy" products claiming to offer a variety of boosts and improvements to your body.
Often, promises are unfounded, and there's hardly any viable content or ingredients to back up the claims of these substance makers. That, or you later come to find that some of the ingredients are more harmful than they are helpful. In short, you're pretty much gambling with your money, health, and time. Surely, there's a more promising supplement out there?
One relatively new product that has grown popular in recent years is the idea of a green juice or superfood drink, but what is a green juice exactly? Well, it's a drink that can provide any and all-natural nutrients your body needs. By consuming the single drink, you can make up for a sub-par or unbalanced diet, provided you remain active and relatively healthy physically.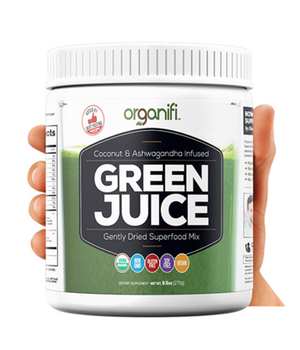 Organifi Green Juice is one such drink. This organic green juice comes in powdered form, contained within a plastic bin. You scoop the powder into a fluid of your choosing – such as water – and then stir.
According to the company, their beverage includes enough ingredients and nutrients to improve your body in many ways, including a general health boost, stress reduction, detoxification, rejuvenated and healthy skin, increased immunity strength, and the ever-popular energy boost.
As the name and product label would have you believe, Organifi is comprised of 100% organic ingredients and offers nearly 10 grams of sustenance per serving. Purportedly, it is made of superfoods only, meaning there are no additional components or substitutes to worry about; nothing hidden or shady. There are no artificial sweeteners either, and it's gluten-free.
But is it a viable product and does it offer everything your body needs? Let's take a closer look at our experience with the beverage, starting with what's it's made of and closing out with how effective it truly is. Well, we're here to help you in your search for the best green drink supplement. Here is our Organifi Green Juice review…
Our Organifi Green Juice Review

Does this make it the best green juice powder? Let's go into more detail…
Price:
$57.95 per month for a single bottle, $149.95 for three, and $249.95 for six. Averages to about $1.93 per serving per bottle. Compare this with the cost to make your own fresh juice, or to buy a fresh juice (costs average $5.60+ for organic)
There is a 30-day risk-free trial from the main site here.
PROS:
100% certified organic ingredients with no additives
Contains Ashwagandha, a powerful herb for Ayurvedic healing offering many restorative benefits
Contains Moringa and Turmeric, both shown to fight infections and some diseases and or cancers
Has an excellent and welcome taste; not common for green drinks
Quick and super easy to make and mix
CONS:
Does not contain probiotics or enzymes for added benefit
A single jar is more expensive; regular subscription or buying 3 is less expensive and advised
Official container not so portable; minor issue for some (although they do sell a portable version)
Who Is the Ideal Organifi User?
These types of green and powdered drinks tend to be for sports enthusiasts, health professionals, and extreme health nuts or anyone looking to stay in top form. Meaning, it's difficult to find a drink that's suitable for everyone, of any size, age, or demographic. But Organifi fits the bill there. I personally am overweight and turned to this product to drop the pounds. So far so good.
Honestly, it's for anyone; everyone. Anyone from kids, to the middle-aged, hyper-busy professional can whip up a batch of the drink in seconds and gulp it down. More importantly, once you start consuming it regularly, you'll find yourself a lot less hungry, eating smaller and healthier portions.
Yes, it tastes that good that even kids will love it, which is surprising. Plus, smoothies and green powdered drinks – like Organifi – are much healthier than off-the-shelf juices with lots of preservatives. Even if you have no interest in the benefits of the beverage, you'll still be improving your overall health, and it's a good alternative to unnatural juices and drinks.
Quick Product Overview
Look, let's be straightforward with one another. You're not going to read this review – or any review (there are plenty of green juice powder reviews out there) – and immediately whip out your wallet, at least not without doing some further research and thinking. That's cool, that's not our intention, and it's not why we're writing the review.
What you need to know if you're only going to skim this whole thing, is that Organifi Green Juice offers a variety of benefits, tastes great, and is easy to mix – and quick too. More importantly, you will begin to feel better almost as soon as you start using it, we sure did.
But even if you don't believe us, which is perfectly fine, or anyone else that has praised the beverage, there is a 30-day no-risk trial. You can order your first shipment and give it a try, before spending anything substantial.
We recommend reading the rest of the review for more in-depth information, but if you're not going to why not at least take advantage of that free trial? We did, and it led to a stable subscription, and we do not regret it.
What Is Organifi Green Juice and Why Should You Care?
Organifi Green Juice – from Drew Canole of FitLifeTV – is a "gently dried superfood mix" that is infused with both Coconut and Ashwagandha. Several elements of the green drink include non-GMO ingredients, gluten free, soy free, and vegan-friendly components. Also, everything contained within is 100% certified USDA organic and natural, but does it make it best green superfood powder? We'll try to answer this question here.
It takes a maximum of 30 seconds to blend and mix the drink and offers a variety of health benefits from mental clarity, to boost immune function.
Organifi Green Juice Ingredients
Some of the more prominent ingredients in the drink include Chlorella, Moringa, Spirulina, Mint, Beets, Wheatgrass, Turmeric, and more. These ingredients each provide a series of benefits that are sure to boost your health and keep you feeling happier, more energetic, and more alive.
Of course, like any similar green drink, these claims are nothing new. Is it indeed possible that a drink such as this can provide everything you need for your body, let alone the advantages and benefits laid out here?
The short answer is yes, and as most reviewers claim – including us – you will feel much better just weeks after you begin regularly drinking the Organifi. The better testament is whether or not some of the prominent ingredients have been shown to offer improvements through actual studies and scientific analysis.
Ashwagandha, the leading ingredient, is referred to as an adaptogen. It comprises a healthy mix of amino acids, vitamins, and reliable herbs, all of which can help reduce stress and improve general health. Adaptogens often remove and filter toxins and internal stresses, helping you live a happier, fuller life.
Then there's Turmeric, a powerful antioxidant shown to fight select forms of cancer and disease. As well as coconut water, a natural refreshment that is high in potassium assisting with more natural and better blood flow throughout the body.
As you've seen, however, these major ingredients are not the only ones that provide benefits, and that's an important distinction to make. Rather than just hear a bunch of users and customers tell you the juice makes them feel better, you can dissect some of these ingredients to see the benefits for yourself – before ever buying the drink or ordering a sample.
The good news is if it seems like too much of a risk for you, even now, the company offers a 30-day risk-free trial. You can order the drink and give it a try, to see how it affects your body, energy, and health before spending anything.
Another welcome thing to note is that, while at first, the drink may not seem as tasty as you'd like, it grows on you quite a bit. More importantly, it is one of the better tasting green juices we've had the opportunity to try. Give another brand a try, and you'll notice immediately how bland and uninspiring the taste and texture can be. Organifi tastes great is sweet enough to keep you coming back, but still all-natural and healthy for you.
Although, it would be nice to have seen probiotics and enzymes added in for that extra immune boost. There are no additives of any kind, which is mostly good, slightly disappointing as we've pointed out. All in all, though, it's a super healthy, alluring, and convenient drink for anyone interested in this kind of thing.
The container the mix comes bundled in is quite portable. That said, they do also make an 'on the go' size as you can see from the box in my picture above, these are great if you're on a long flight and want to get some nutrients into your body.
A single jar can be expensive compared to store bought, mass produced juice, sure, but coupled with the 30-day trial and plenty of subscription options you should have ample opportunity to decide if it's a price worth it to you, or not. I think its a steal to be honest, as the other option is an expensive (yet very good, I have one too) cold press machine, constant trips to the market for organic ingredients, or an expensive trip to a juice bar (over $5.50 a juice in many places)
When you consider the 3 options you have, this is an excellent drink with many health benefits, that's sure to please everyone who gives it a fair shot.
Pricing and Features
Hands down, the biggest hurdle for you – or any new Organifi user – will likely be the price. But, just take a look at all the ingredients it includes, and you'll also notice how much more it has to offer. Then compare it with the cost of a cold press and the time saved from doing it yourself you will quickly see why it is my preference.
The base subscription, at one bottle per month, costs about $57.95. From there, you can choose up to three bottles per month for $149.95, or six bottles per month for $249.95. Of course, shipping is not included so you'll have to pay for that too on top of the quoted prices. That will vary depending on the region and country where you live, obviously.
Using Organifi
While the packaging itself isn't as portable as we'd like, the mix itself is super easy to use, anywhere. In fact, one of the better experiences was making this drink wherever we were, out for lunch, out shopping, at home, at the gym, and anywhere else we fancied. It's perfect for travel too because it only takes about 30 seconds to thoroughly mix the drink in a suitable container.
Preparation is super easy. Just add a single scoop to your fluid; be it water, low-calorie rice or almond milk. Then, simply stir, and you're ready to go! You can also add the mix as a boost to other smoothies and drinks that you're preparing, just as you would with protein powder or similar combos.
One bottle contains up to thirty servings of the beverage, and the recommended consumption for adults is two servings a day. That means if you're drinking it as recommended, a single bottle will last for about 15 days or so.
You don't get unmixed clumps or gross chunks in the drink either. It mixes super well and efficiently, which if you've ever used a green juice like this before you'll know, is awesome to hear.
It also tastes pretty good cold or warm. The texture isn't abhorrent either, in fact, it's quite pleasant. Mixed drinks often have a chalky, almost residual element that leaves you feeling a little gross even after you've swallowed. Organifi does not have to be washed down with another drink, and it's a great experience all around. In the picture above you can see I just add water and sip it as a drink.
If you're looking for something that mixes quick, mixes well, and can be used in just about any form – cold or lukewarm – anywhere then Organifi is the way to go.
Customer Support
The customer service and support team at Organifi is fantastic and responsive. During our experience, the longest it took to get in touch with a rep was about fifteen or twenty minutes over the phone and less than a day through email. They were always courteous, helpful, and pleasant to interact with. No, we did not disclose that we were writing a review or making a note of our interactions, which makes it all the more relevant.
If you want to cancel an order, report a problem, or update a subscription there are only a couple of ways to do so. You can either email the support team or call the official hotline. Calling over the phone is pretty much exactly what you'd expect, but luckily, it doesn't take long to get in touch with an actual human representative. Through email, it takes a little longer to get a response, but compared to other support teams, Organifi's is certainly reliable.
The most important thing to note, however, is that should you have any issues you can have the problems remedied promptly, and the same applies to any questions or concerns you may have.
Should You Buy Organifi Green Juice or Not?
And now we come to our conclusion, the part of the review where we either recommend or turn you away from the product. Is Organifi the best green powder? Is it worth your money, especially since it's a little pricier when compared to similar products? Will you see any results, and is a subscription – for regular shipments – warranted?
Unequivocally, yes. You will notice a happier, healthier, maybe even spunkier you, within the first couple of weeks of drinking the juice. We certainly did, and it made us feel as though we finally landed on something that's not just a placebo.
It works, and it makes you feel great. Now, it's not a dietary or weight loss supplement, so don't expect to shed a ton of poundage when you start drinking the juice. You may shed some weight naturally, but that's likely because the juice is expelling toxins and bad chemicals from your body.
Still, you will come away feeling healthier, more active, and more, well, you. We certainly have splurged on the regular subscription, and will continue to use Organifi into the future. It's that great. It might even be the best green drink powder out there at the moment.
If it sounds promising to you, feel free to give it a shot by ordering here, one of the best places where can you buy green juice, in our opinion.
Alternatives to Organifi Green Juice
Alright, so you've poured through the review, and while Organifi sounds promising, you aren't quite sold on it. There are so many green juice reviews out there… No problem. Being skeptical is not a bad trait, it's a good one, especially when it comes to products like this.
So, naturally, you want to hear about a few alternatives to what we consider the best green food powder so you can check them out before making a final decision, right? We have you covered.
Amazing Grass: Organic superfood mix with similar ingredients to Organifi, though boasting separate results. I liked this one too, based on ingredients and taste, I prefer Organifi, but this also gets around an 8 or 9 out of 10 from me.
Green Vibrance: A direct competitor of Organifi, offers many of the same nutrients and ingredients with a few differences.
Cold Press Juicer: and doing it at home yourself. This is something I do on weekends with the kids, but it costs a lot more and is a big time suck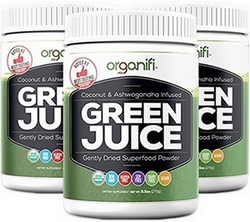 So for me, almost hands down, and also because I really love the subscription model to keep my drinking my juice, as well as the organic ingredients that make a noticeable difference to my general well-being and mental clarity, I simply must say that Organifi Green Juice is my choice for drinking twice a day. Definitely one of the best green drinks out there!